Can you really find hidden gems in Dubai?
The answer is yes! And we dare to share 9 amazing secret spots in Dubai with you.
Dubai is known for many things – its towering skyscrapers like Burj Khalifa, its fancy shopping experience at Dubai Mall and other complexes, the beautiful Jumeirah Beach, Sufouh Beach and its luxurious beach clubs. And of course, incredible fine dining options and museums.
The city is also one of the safest in the world and the weather is warm all year round. The United Arab Emirates, especially Dubai, became a hot spot for tourists and it's easy to understand why.
But as with any travel destination, it's easy to get stuck doing all the obvious, touristy things. Now, there's nothing wrong with that – there's a good reason that certain attractions are so popular and you must do a Dubai city tour and see the city's main attraction.
However, if you go slightly off the beaten track, you'll be able to experience some incredible parts of Dubai that not many visitors will see.
Luckily for you, we're going to give you some insight into these 9 hidden gems in Dubai so that you can get the very best out of your trip to the City of Gold.
FYI, read this Dubai guide until the end as it's packed with info divided into sections:
Dubai secret spots,
Things to do in Dubai that are a must (and how to avoid queues),
How many days in Dubai,
Best places to stay in Dubai,
When to travel to Dubai.
So, without further ado, here are some of Dubai's best-kept secrets that you can visit before or after the popular attractions in Dubai.
Hidden gems in Dubai you must visit
Dubai Coffee Museum
If you're a coffee fiend like me, the Dubai Coffee Museum is sure to pique your interest. And even if you are not a coffee lover, it's one of Dubai hidden gems worth visiting.
Located in Al Fahidi, a heritage area in Bur Dubai, the nice thing about this museum is that it's cozy and unlikely to be crowded with tourists.
It boasts traditional architecture with a hint of oriental flavor. Visitors can wander around the museum's two floors and learn loads of interesting facts about the origins of coffee and legends about Ethiopian coffee that go back 100 years ago.
Afterward, you can enjoy a cup of coffee in the museum's café and check out the gift shop if you'd like to take some home with you.
Bastakiya Quarter
Most of Dubai is incredibly modern, but if you're interested in experiencing a bit of the city's history, I'd absolutely recommend visiting the Bastakiya Quarter.
This hidden gem in Dubai was initially developed in the 1890s, it's a historical little neighborhood that owes its name to the plethora of Iranian traders that lived and worked in the area in the 19th century.
Located between Dubai Creek and the Bur Dubai District, the Bastakiya Quarter was originally settled by Persian traders and became home to local Arab tribes in later years.
When you visit today, you can wander around the quaint area and see some incredible historical sites, including the Al Fahidi Fort which is believed to be the oldest building in Dubai.
If you have time and you are part of the culture lovers group, check out the Sheikh Muhammad Centre so you can understand more about Emirati culture, and the Majlis Gallery too. This fine art gallery is set in a former interior designer's house and offers temporary exhibitions.
The Farm
Find yourself in an unexpected oasis when you visit The Farm. Focused on encouraging sustainable farming in Dubai, The Farm, also known as Al Barari, was created by planting one shrub at a time.
Today, it's home to over 500 hundred different plant species. It's the perfect spot in Dubai for those looking to experience a little bit of nature and escape the concrete jungle. You can enjoy a stroll around The Farm and all it has to offer.
While you're here, you can visit the restaurant, which serves delicious food made from produce grown right at Al Barari. You can have from breakfast options to lunch and dinner. You will find on the menu Arabian dishes, international cuisine, and Asian flavors.
You can also visit the health club that'll provide you with access to a swimming pool, tennis courts, and a gym.
Showcasing gorgeous scenery, serving popular dishes, and providing you with the opportunity to get active outdoors, The Farm really is one of the hidden gems of Dubai.
Alserkal Avenue
If you're a fan of art or just want to experience a taste of Dubai's local culture, you can't miss out on visiting Alserkal Avenue.
You'll find the work of over 70 local galleries on display and the area as a whole is committed to developing and fostering homegrown initiatives and local art. It's also an attraction for locals, so take advantage of it and get a taste of Dubai's local life.
But in addition to loads of awesome galleries, Alserkal Avenue also has creative spaces, music venues, and casual cafes.
It's a modern, creative scene in Dubai, and although it's not always at the top of the list for tourists, Alserkal Avenue certainly is one of the hidden gems in Dubai.
SEVA Experience
A holistic café, SEVA Experience in Dubai offers visitors the opportunity to connect with both themselves and the universe. Despite being located in the famous Jumeirah 1 area, it's truly a hidden gem in Dubai and the perfect place to disconnect.
They offer a range of different wellness classes and events to help you achieve what you're aiming for. Whether you just want to dip your toe in the water or dive right in, you can have the experience that suits you.
SEVA's offerings range from yoga classes and meditation to things like sound healing.
However, if you're looking for more in-depth education, the SEVA Experience offers therapist training – that is, Nir Levi Method Therapist Training. It's a 270-hour experience that covers three main areas – the physical, the emotional, and the energetic.
Dubai may not be the place you expected to enjoy spiritual enlightenment, but the SEVA Experience offers a holistic way to connect with yourself and the universe, and also to learn new techniques.
Plus it has a cafe in a beautiful courtyard setting that you probably will fall in love with. On the menu creative dishes are 100% plant-based, gluten-free, cane sugar-free, and GMO-free. If all this resonates with you, don't skip SEVA when visiting Dubai.
Ripe Market Events
Experience a different – yet authentic – side of Dubai that you may not have seen yet. Ripe Market hosts a plethora of artisan stalls and food trucks making it a great place to visit on the weekends.
You can peruse the local stalls, featuring vendors from all over the city, and grab a delicious bite to eat.
The market focuses on small businesses and offers a range of different types of artisan stalls – including fashion, art, home décor, jewelry, and more. If you are looking for things to buy in Dubai this might be the place to find all the gifts and souvenirs you are looking for.
And there is good food, of course! Ripe Market is also a great place to do shopping for some local fresh produce. On top of just wandering around the market, there are also workshops available, as well as live performances and yoga sessions.
Natural hidden gems in Dubai, UAE
Al Qudra Lakes
Take a break from the hustle and bustle of busy city life and enjoy a day trip to the Al Qudra Lakes. Best of all, it's just outside the city, so you won't even have to travel far for some peace and quiet. In fact, it takes less than an hour to get here by car.
It may be an artificial oasis, but it's still incredibly beautiful, and it's part of the Al Marmoom Desert Conservation Reserve which aims to promote responsible tourism.
Unfortunately, you're not allowed to swim in the lakes which would be a blessing for summer daytime temperatures. But it's a great place to have a picnic and kick back for the day, and if you're lucky, you may even see some wildlife.
The good news is that visiting the Al Qudra Lakes is free. The city is known for being an expensive destination, so finding fun and free things to do in Dubai is always a good idea.
Regarding costs, read our article about how to save money in Dubai. We share tips to find affordable prices and save money without cutting off on the fun.
Pro tip: try and head out here during the week rather than on the weekends as it'll be significantly less busy.
Zabeel Park
One of the largest parks in Dubai, Zabeel Park is an urban oasis with a plethora of entrance gates and pedestrian bridges. With this huge size and importance, it might not be the most secret place in Dubai, but I recommend you to check it out.
You do have to pay to enter (AED 5) but if you're looking for some grass and quiet moments, it's totally worth it.
It's a popular destination for people to exercise and play sports. It features a 2.5-kilometer-long running track, a BMX track, a skateboarding park, a barbeque and picnic area, a cricket pitch, a lake for boating, a fitness center and so much more.
You can even go ice skating at Zabeel Park! How cool is that!
It's also home to the Dubai Frame (one of the city's Instagrammable spots), and the park is known for its technology-based theme. There are several educational and interactive displays, and there's even a 3D cinema.
The Dubai Garden Glow happens at Zabeel Park from Sunday to Friday – from 4 pm to 11 pm, and Saturdays until midnight. It's the largest glow park in the world covering 40 acres of land. It's filled with glowing structures made from recycled materials and offers stunning views when lit up.
Ras Al Khor Wildlife Park
This hidden gem in Dubai is for all nature lovers out there.
You may not think it, but Dubai is actually a great place to see local fauna and flora. Pay a visit to Ras Al Khor Wildlife Park and you'll be amazed at the plethora of birds and plants living so close to the city.
It's a popular breeding ground for many species of birds (the most popular are the flamingos), as well as crustaceans, fish, and mammals.
The Dubai Municipality pays close attention to protecting and conserving the sanctuary, essentially allowing it to be the pristine and beautiful area it is today. Located just out of the city center kind on the way to Dubai International Airport, it's also a great place to visit for a day trip from Dubai.
Top Attractions in Dubai you must visit
We covered the secret spots in Dubai you must visit, now it's time to talk about what to do in Dubai which is very touristy but also super fun!
Dubai is famous for its architectural wonders you can admire and visit, incredible museums, and unique attractions. So we will list below some of the top things to do in Dubai and a few tips on how to enjoy them, skipping the queues and saving time. Plus some of our favorite tours in Dubai.
15 Things you must do in Dubai
– Witness the beauty of Dubai Fountain
– Visit Dubai Museum
A great option to visit the museum is during a walking tour. Check out this Old Town, Walking Tour, Souks, Museum & Street Food that has the Dubai Museum entrance included in the price, also the oldest mosque in Dubai – Al-Badiyah Mosque.
– Dubai Miracle Garden
Another mesmerizing attraction in Dubai, the Miracle Garden is a botanical paradise, and if you want to visit I would recommend booking the entrance ticket in advance to avoid queues and waiting time. You can book your skip-the-line ticket to Dubai Miracle Garden here.
– Dubai Desert Safari
Going on a safari in the Arabian Desert is a must in Dubai, and there are plenty of tours and experiences you can choose from. If you want you can even spend a day and a night in the Dubai desert (check it out here).
Here are 4 Safari tours with great reviews:
– Get Lost the Souks of Deira
Don't forget to visit the gold and spice souks, and for a more local experience try to find the fish market)
– Sail around the Dubai Creek
You can go jet skiing or parasailing, join boat trips, or rent a kayak and have fun on Dubai's crystal-clear water.
Travel Advice:
Don't forget your Travel Insurance! You don't want anything to ruin your trip, right? So don't take the risk! Reliable travel insurance can help you in case of travel issues, from accidents to health problems, travel delays, and lost luggage.
There are many insurances in the market, our picks are HeyMondo and SafetyWing. We used both and always had a good experience. Click on the insurance names to get a quote.
– Visit Dubai's best beaches
Here are some of the beaches in Dubai you should visit: La Mer Beach, Jumeirah Public Beach, Sunset Beach, Al Mamzar Beach Park, Kite Beach, Umm Suqeim Beach, Mercato Beach, Jumeirah Beach Residence, and Black Palace Beach.
There are many more places to visit in Dubai, this is a summary of the top tourist attractions that you must visit together with the hidden gems.
For those traveling with kids, Dubai has many amusement parks and water parks where you can take the little ones.
For getting around Dubai you can use taxis, or jump on a hop-on hop-off bus that offers 3 routes and over 20 stops across the city. You can choose unlimited hop-on hop-off access for 24, 48, or 72 hours. Check the benefits of the Dubai Hop-On Hop-Off Bus Tour here.
How many days in Dubai is enough to see everything?
By now you already notice that you will have many incredible things to do in Dubai, then comes the question: how many days should you spend in Dubai?
I suggest you spend at least 5 days in Dubai, 7 days would be perfect!
However, if you can't stay that longer keep in mind that you can always come back for a couple of days or a long layover. This astounding metropolis keeps innovating and there will always be a new attraction or gem for you to discover.
Where to stay in Dubai for an unforgettable experience?
Now comes the second best part of this Dubai guide, the hotels and where to stay in this incredible city.
Dubai is known for its luxury hotels with beachfront views and high price tags, which can turn the simple task of booking a room in Dubai into an overwhelming experience.
Don't panic, to help you plan your trip, we selected the best hotels in Dubai and divided them into luxury, mid-range, and budget accommodations so you can choose your favorite easily.
Here are the best places to staying Dubai: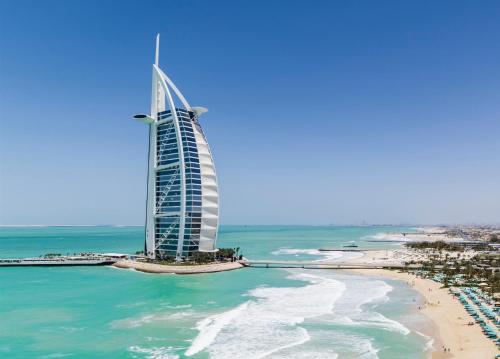 Luxury Hotels in Dubai:
Think of superb stays, glamorous rooms, and Michelin Star restaurants. (click on the hotel name to book your room)
Mid-range hotels in Dubai:
Quality service at affordable rates. (click on the hotel name to see the rooms)
Budget hotels in Dubai:
Comfortable stays that won't break the bank. (click on the hotel name to see the rates and book your room)
When to travel to Dubai?
Now that you know 9 secret places in Dubai, what to do, and where to stay, it's time to get back to your travel planning and try to squeeze in your itinerary as many attractions as possible.
The best time to visit Dubai is during winter, from November to April, January and February the busiest months. It is during this period that many activities and events happened in Dubai attracting even more travelers.
If you are looking for the cheapest time to visit Dubai, then plan your trip between April and October. The prices of flights and hotels tend to be lower as it's the low season in Dubai.
You can search for the best flights to Dubai via Skyscanner.
But be aware that Summer in Dubai is really hot and humid, easily reaching temperatures above the forties.
So if you are thinking of traveling to Dubai in the low season, prefer doing it in May or October, rather than June, July, and August which are the hottest months in Dubai.
So, when are you planning to visit Dubai?
Love this hidden gems in Dubai guide? Pin it for later!