Music, pristine beaches, and happy people. The perfect combination for a party holiday, even better if it is a party holiday in Croatia Summer. So let's go straight to the point, which are the best party islands in Croatia?
We have been here, and I can tell you Croatia party season is AMAZING. The country, its islands, and coastal cities are incredibly beautiful, packed with history and beautiful attractions, the weather is perfect, and it has some of the best festivals in Europe.
It's easy to say that the nightlife in Croatia is special, and during Summer the parties are happening all day long, from beach clubs to festivals and boat parties, and go all night out at the clubs and after parties. The music style varies a lot, so if you like pop, techno, trance or hip hop, you will find a party in Croatia for you and your friends.
The Croatian coastline has more than 1000 beautiful islands that offer endless sunshine, breathtaking beaches, and great local food. But there are five islands in particular that are party destinations and attract party-ready crowds coming from all over the world. Whether you are looking for 24-hour fun under the sun or want to recreate an Ibiza here, Croatia has something to offer every kind of youngster, young adult and couple.
Are you ready to discover the 5 best party islands in Croatia and their nightlife scene? Keep reading, and you'll help you plan the party Summer of your life. You will get a list of the popular islands for parties, how to get to each of them and where to relax after a long night of dancing.
5 Best party Islands in Croatia
Hvar Island – Croatia's famous party island
Hvar Island has always attracted visitors from all over the world, especially the young. This Croatia party island offers travelers a mix of cocktails, endless sunshine, and lots of fun. With the advantage of its location, there are about 260 sunny days per year. This makes Hvar a perfect place for sunbathing and parties in Croatia, definitely one of the most popular destinations in the country.
At night, you can go to beach bars and lounges such as Carpe Diem – one of the famous clubs in Hvar, Croatia.
EDM Lovers will be happy to know that the one and only Ultra Music Festival Croatia is renewed annually. Ultra Festival made Hvar one of the most famous islands in Croatia for parties. And after an exciting night, there are many things you can do (party related or not) during the daytime.
In terms of travel budget, Hvar can be a little bit more expensive than the other party islands in Croatia. But usually, you get good service for what you pay.
How to get to Hvar, Croatia:
To travel to Hvar, you can grab a ferry from Split to Hvar, which can take about an hour or more. During Summer and festival season, we recommend you book your ticket in advance, so you will be sure to get to Hvar on the date you want and don't miss any action on this Croatian party island.
Split has an international airport, so it can be the starting point of your party holiday in Croatia. You can also get to Croatia via other airports like Dubrovnik, Zagreb, Rijeka, and other smaller ones. Many travelers also get in and around Croatia by bus or car. One thing is for sure, you will need to combine bus and ferry, or car rental and ferry to get to the party islands in Croatia.
Where to stay on Hvar Island:
There are many hotels in Hvar town, from luxury stays to comfy apartments and cozy guesthouses. For party-goers, it's a good idea to stay in the busiest area and be close to the parties in Hvar. Another option is to choose accommodation on a secluded beach.
You can find some suggestions of where to stay in Hvar below. We selected a few hotels, from modern and sophisticated properties to nice and budget apartments you can share with friends. Click on the hotel names to see the details and rates!
Palace Elisabeth, Hvar Heritage Hotel
Amfora Hvar Grand Beach Resort
---
Pag Island – Croatia Festival Island
In recent years, Pag Island has been more popular among visitors and party goers. The island is surrounded by the crystal-clear Adriatic sea and is the perfect beach destination in Croatia. But more than that, Pag Island is blessed with one of the finest and most stunning sunsets in the world and good parties.
Beyond its natural beauty with pebble beaches, Pag combines exciting parties, great music, and an international crowd. Most people travel to this Croatian island for just one reason: to have the best time of their lives. And during the time in Pag, Zrce beach is a must-go traveling destination. Zrce beach is the address of worldwide renowned clubs, and they host most of the festivals happening in Croatia.
Pag is one of the best party islands in Croatia because it houses some of the best music festivals in Croatia and Europe. Think of Hideout Music Festival, Croatia Rocks, SONUS and Fresh Island.
Many famous DJs like Armin Van Buuren, Calvin Harris, Avicii, Seth Troxler and Nina Kraviz have come and performed here. One thing you can be sure of: there's never a shortage of parties in Pag Islands and its famous beach. And when you are done dancing, you can find a quiet beach to relax, as Pag has some of the most beautiful hidden gems in Croatia.
How to get to Pag Island, Croatia:
There are two ways to get to Pag Island. One is via ferry (car and pedestrian) that leaves from cities nearby such as Pesaro, Prizna, Rijeka, and Rab Island. The other is by road, by driving or getting a bus. Buses to Pag Island come from different locations, and most of the bigger cities (Rijeka, Zadar, or Zagreb will have buses to Pag).
Pag Island's closest airport is located in Zadar. From Zadar Airport to the bridge that connects to Pag is about 37 Km.
Where to stay on Pag Island:
When it comes to finding a place to stay on Pag Island, you really need to consider how you will get around. If you want to stay close to the parties in Pag, you must find accommodation near Zrce beach, that would be the perfect spot, but it is not that easy. There are only a few hotels, apartments and campings near the popular clubs. So you better book in advance and be ready for more expensive rates.
Another option is to stay in Novalja – the largest town on the island, or near the roads that lead to Zrce beach. We listed a few options of good places to stay near Zrce beach in Pag Island. Click on the name of the hotels to see the photos and rates.
VILLA CALA, Hotel Rooms & Apartments
---
Rab Island – Party and relaxed vibes
Rab Island is an ideal place for people who are just new to parties in Croatia or are tired of big crowds. Because of its location right next to Pag Islands, Rab has lived under the fame of its neighbor for a long time.
Now, when Pag is slowly packed with busy crowds, visitors are looking for an alternative one, and Rab is the perfect place. This island is famous for all its lush forests, rocky canyons, and sandy beaches.
Rab's beautiful beaches are lined with nightclubs and outdoor bars. And you can find all of that around Barbat, on Pudarica Beach. And if visitors are bored with all the parties and music, you can try other activities like ATVs or going to local historical museums. This is a good way to spend the rest of your holiday catching up on relaxation by the Adriatic Coast.
How to get to Rab Island, Croatia:
Like the other Croatian islands, you need a ferry or a catamaran to get to Rab. You can get them from Rijeka (which makes a stop at Pag Island port town first), from Krk, which is connected with the mainland by a bridge, making it a good option for those traveling in Croatia by bus or car.
There are also ferries to Rab departing from Zadar and other small coastal towns like Stinica. You can also get a bus to Rab Island, and that will include the ferry part as well.
Where to stay on Rab Island:
Rab island has many hotels and guesthouses. Some of them are small and cozy with beautiful views of the sea or old town. Click on the name of the hotels and choose the one you like the most.
Valamar Carolina Hotel & Villas
---
Brac Island – Diving and partying in Croatia
According to the list, Brac is the third largest island on the Adriatic Coastline. It's also home to one of the most stunning beaches in Croatia: Zlatni Rat Beach. However, Brac is a dry island. As a result, you won't be able to find any lush vegetation here. But you can find some lovely destinations with rocky shores.
If you are a fan of scuba-diving, this is the perfect place. You can see all the marine life under the sea in Lucie Bay. And despite its location near to Split, Brac Island is less popular than other glamorous party islands like Hvar or Rab. This island is not a really famous place for DJs or super riches. For that reason, it provides an excellent authentic island life. This will give you great experiences if you want to blend in with the local life.
The Southern resort town of Bol has the most vibrant nightlife in Brac. This place is full of pubs, clubs and all-night long parties. And besides the night fun, you can also visit the olive garden and try the famous Brac olive oil.
How to get to Brac Island, Croatia:
There is an airport on Brac Island, but it's small and it doesn't receive flights from many destinations. So you better fly to Split, Brac's closest airport, and from there get a bus ride, a ferry, or a taxi service to the island.
There are ferries and catamarans to Brac departing from major Croatian towns, like Split, Dubrovnik (and Makarska), and Hvar Island. If you want a hassle-free party trip to Croatia, you can book a catamaran direct service from Split Airport. You book one ticket, and they organize everything for you.
Where to stay on Brac Island:
Here are our recommendations of places to stay on Brac Island. We suggest hotels on popular beaches and different areas of the island so you can get a taste of the party scene and also local life. Click on the names of the hotels in Brac for more details.
Apartments LOTA, Heated pool TOP location
---
Obonjan Islands – A private party island in Croatia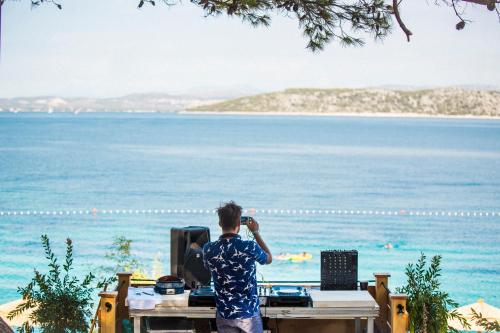 Due to the government's modifications, from 2018, Obonjan's gorgeous island has been completely reconstructed with a different face: from a desert island to a unique private island. This offers exclusive forest and pool parties all summer long.
Visitors can rave all night and then refresh themselves with a morning Taichi session or a swim at the hotel. This party island in Croatia is designed to provide travelers with creativity, freedom and wellness in mind. Plus, you have the feeling of having the entire island for you, as there is only one resort in the middle of untouched nature.
At Obonjan Island Resort, visitors can find luxurious amenities such as infinity pools, spa services and gyms. The 10-week summer season on Obonjan Island offers the most amazing mix of revelry and relaxation that can't be found anywhere in the world. Making it one of the best party islands in Croatia.
How to get to Obonjan Island, Croatia:
There are boats departing from Sibenik town several times a day. You can take a ferry, the boat service offered by the island resort of a private boat transfer.
If you plan to fly to Obonjan Island, then the nearest airports to Sibenik town are Split Airport and Zadar Airport.
Where to stay on Obonjan Island:
It's an island resort, so you will have different types of accommodation at the same property. You can choose from glamping, classic tents, or camping villas. Check Obonjan Island resort rooms here.
That's our guide to the Croatian music festivals and party islands. Now you know the best islands in Croatia for parties and where to party on each of them. Follow our tips on how to get to the islands and where to stay, and start planning your party holiday in Croatia right now. Whether you are going solo, with friends, or with your loved one, Croatia won't disappoint you.
We recommend you to read our Travel Planning Page for more tips about booking hotels, renting a car, buying travel insurance, and other details you need to think of when organizing a trip. Plan wisely so that once you arrive in Croatia, you can relax on a gorgeous beach, enjoy the exciting nightlife, and dance from sunset to sunrise. And after your trip, let us know which one is your favorite island in Croatia.
Do you love this Croatia islands party guide? Pin it for later!