If you are heading to Hawaii and a visit to the Black Sand Beach Maui is not already on the top of your list, then we're sure you'll be adding it after this read. The pitch-black black sand and rock found on the beach of Honokalani in Waianapanapa State Park is a magnificent sight and not to be missed when in Maui.
The beach is located just 3 miles from the town of Hana. If you are doing the Road to Hana drive, this is the perfect place to make a pitstop, located at mile marker 32. The black sand, lush tropical greenery, and turquoise waters make for a combination of colors on the beach that you have never seen before.
The uniqueness of this beach has inspired many visitors to its shores to experience the unusual phenomenon, and to take great pictures! But this area is also very sacred to the Hawaiin people. With an ancient ruined temple and mysterious caves, many legends with historical significance are told about this area. 

Okay, so let's dive straight into all the things you need to know about visiting the black sand beaches in Maui. If you love a getaway to the coast, and visiting the beaches of Bali or any tropical paradise is always on your mind, then you are in for a treat.
What gives black sand beaches their color?
Let's start by answering the question on everyone's mind, why is the sand on this beach black? The black sand beaches in Hawaii are comprised of black rock and sand which can form in two ways.
The one way the black sand forms is from water erosion on the volcanic island. Rivers and streams cut through the volcanic rock as they flow, breaking it down. The eroded rock flows with the stream of water and continues to break down as it goes along, eventually reaching the sea. It is then released into the ocean and onto the shore, creating the black sand beaches that we see.
The second way the sand and rocks form is from a hot lava flow that has hit the cool seawater and hardened. These pieces then shatter and break into various sizes, including into small grains of black sand. The continual force of the ocean over the years continues to break down the rock creating varying sizes and textures of smooth, round, coarse, and fine sand and pebbles.
It is illegal today to take or remove any of the black lava rocks, pebbles, or sand from the beach, as it is a limited resource. So when you are visiting the beach be sure to enjoy the views while you are there and take lots of pictures. This way you'll be able to remember your one of a kind adventure, without taking anything home with you.
Activities near Black Sand Beach Hawaii
The black sand beach is often also referred to as Waianapanapa Beach, as it is situated in Waianapanapa State Park. It is nestled within a private cove with an interesting cave to the right and lush greenery all around. The park comprises 120 acres of tropical land and is home to exquisite landmarks and natural phenomena.
Hike and Explore
Seabird colonies, ancient lava caves, natural stone arches, and hidden blowholes are some of the sights you will encounter in the park. A hike on the Waianapanapa Coastal Trails is the best way to explore and discover everything this magical place has to offer.
Look for trail signs to the left of the beach. You can hike all the way to Hana town. On the way, you'll be mesmerized by the ocean views and fascinating fauna and flora around you. Or if you feel like learning about the history of the area, you can also take a different path to the ruined temple, Ohala Heiau.
And if you decided to stay longer, there are plenty of other parks and natural wonders to visit near Black Sand Beach and on the Road to Hana. One of them is the incredible Bamboo Forest with its trails, waterfalls and unique beauty.
Laze on the Beach
If you would prefer to just chill out on the beach taking in all the sights and sounds around you, this is also a great way to experience the black sand beach in Maui. Remember to pack a picnic to enjoy a full day by the sea.
Spend the Night
Sleeping over in the park is also an option for adventurous souls. You are allowed to camp, however, you will need to get yourselves a permit to be able to do so. The park also has twelve cabins that can be rented. If you are just visiting for the day you will have access to restrooms and picnic facilities.
Can you swim at Black Sand Beach?
Waianapanapa aptly means 'glistening water' and all you are going to want to do when you see it is dive straight in. However, with no lifeguards, swimming in the water can be dangerous and should be avoided. The famous beach is known to drop quickly from the shoreline into deep water. The rip currents can also be very fierce, making it difficult to swim.
If you really cannot resist a quick dip then you need to make sure that the water is extremely calm. This is rare and usually only occurs in the summertime. Again, it is recommended to just wade in the water up to your ankles. You'll still feel the warm water and sand between your toes within safety.
Top tip: Remember to take shoes onto the beach with you. The black sand gets significantly hotter than white sand, so you might just need them for protection.
Best time to visit Black Sand Beaches Maui
Maui boasts a near-perfect tropical climate, meaning there is never a bad time to visit this island. As mentioned above, if you are after a dip in the black sand beach waters then the best time to go is during the summer months between April and September. This is when the water is the calmest and the best time to try and sneak in a swim.
If you are happy to explore the surroundings of the beach and enjoy its beauty from the shoreline then the winter months are also warm. Although, this is considered to be the wet season and there can be a lot of rainfall from November to February, so just keep that in mind when booking.
Where to stay near Black Sand Beaches in Maui
Hana is the closest town to Waianapanapa Park and the best place to base yourself when visiting Honokalani beach. That's if you are not staying in the National Park itself. The town is very small and is known mainly for its exquisite scenery.
The charming town has local art galleries, market stands, and local food vendors. If you spend a few days here, you should also try out the snorkeling at Hana Bay, a hike to Fagan's Cross, and the Hana Cultural Center and Museum. The dining out options are limited but you will be impressed by the delicious exotic flavors whipped up by the locals.
This town is rustic and authentic and a great taste of Maui island life. Only 3 miles from the park, you can't go wrong with booking into an awesome spot in the town to rest your head after a long day of exploring and adventures. Have a look at our accommodation guide to ensure you book a perfectly suited place for you.
Check out some of our top accommodation picks when deciding where to stay in Hana: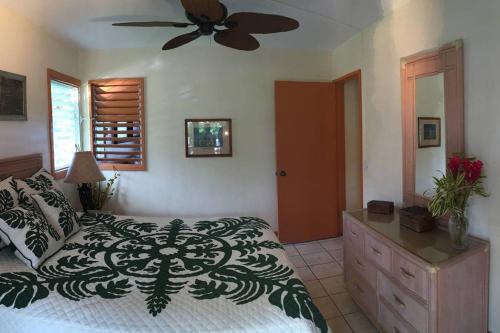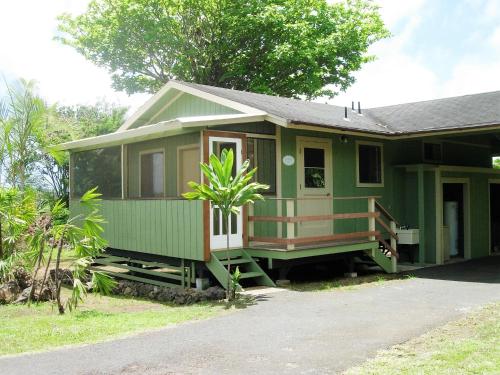 Is it worth to visit Maui Black Sand Beach?
A trip to the black sand beach in Maui is a once in a lifetime experience. The pitch-black sand is such a contrast to the usual white sandy beaches we are used to, it will leave you in awe. One of the great things about going to Waianapanapa Park to see the beach is that there is also so much else to explore.
From dramatic coastal views, hidden caves, and ruined temples, you will never get bored of exploring this sacred area. And after a full day of adventuring, you have the quaint town of Hana to look forward to. One cannot simply visit Maui and not visit this exquisite beach.
Not only will you have the most epic photos but you will have the most incredible memories of this rare sight. So what are you waiting for? Get those bags packed and begin your journey to one of the most awesome places you will ever be.
Love this guide to the black sand beach in Maui, Hawai? Pin it for later!