Located in the Pacific Northwest on the US West Coast, the state of Oregon sits between California and Washington, and its major city of Portland is becoming increasingly popular with domestic and international visitors. If you are reading this post, you probably already know all the fun things to do in Portland, Oregon. Now it's time to talk about Portland travel costs, how much money you need to visit this awesome destination, and how to save while planning your trip and on the way.
Oregon is known for its stunning natural beauty, with countless waterfalls, forest hiking trails, snowy mountains for skiing and incredible coastal drives and attractions. These attractions can be found a little over one hours drive from Portland, making Portland a great base for plenty of Oregon day trips. Plus, it's one of the best fall destinations in the US.
Portland itself is known for its vibrant alternative and hipster cultural scene, which is well worth spending a few days exploring. You'll find everything from vintage markets and art museums to an abundance of craft breweries and artisan donuts.
Now come the questions: how much does it cost to visit Portland, Oregon? Is Portland expensive? Keep reading, below you will find a breakdown of Portland prices, costs of accommodation, transportation, attractions, and more. We're going to share Portland travel costs and tips to maximize your travel budget while enjoying the best of the city and region.
Portland travel costs breakdown
Let's start with the cost of traveling to Portland. Do you know how much does it cost to fly to Portland, Oregon? Not much, but it all depends on where you are coming from. The good news is that you can find domestic flights to Portland, Oregon from within the US for relatively cheap, often under $100.
If you're flying to Portland from an international origin, your options are a bit more limited. There are a handful of direct flights from London, UK to Portland, Oregon at peak times of the year, but the size of Portland's airport will usually mean you'll have to take a connecting flight via another US city. Depending on your departure country, a round trip flight to Portland, Oregon can cost anything between $400-$1,100.
Search for cheap flights to Portland on Skyscanner and Kiwi.com.
An alternative option that can save you money is to fly into Seattle, Washington, and then drive 2.5 hours to Portland. If you're already planning to hire a car for your trip then this is a great option and international flights to Seattle's Tacoma Airport can often be $200-$600 cheaper!
Looking for luxury or budget car rental in Portland? Click here to compare prices and book the best one!
Transportation costs in Portland
Costs of public transport in Portland
One of the great things about visiting Portland is that the city transit network is extensive, easy to use, and cheap. A 1-ride ticket costs $2.50 and is valid for 2.5 hours. During that time, you can take as many public transport methods or journeys as you need and never have to pay more than the $2.50 ticket.
The amount you pay is capped at $5.00 per day. So once you've used two 2.5 hour passes, you can continue to use the public transit system as much as you need during the day and you will never pay more than $5.00. Payments are made by tapping-on your ticket when you board transit. This is done via Hop tickets which can be purchased at ticket machines at major stations or you can tap your phone and pay via Apple Pay, Samsung Pay or Google Pay.
These fares cover all transit on the Trimet bus and MAX light rail services, Portland Streetcar services and some C-Tran services, so wherever you're staying in Portland, getting around the city is cheap and straightforward.
Trimet bus lines run 24/7.
Uber and Lyft are the two main rideshare options you have in Portland and they are substantially cheaper than a normal taxi cab. An Uber or Lyft from the PDX airport to downtown Portland will cost around $25-30. A traditional taxi would typically cost almost twice that amount.
So here is our first tip to save money in Portland: take advantage of public transportation and avoid taxis. If you need to get around by car, choose between Uber or Lyft and you'll keep your Portland travel costs under control.
Cost of accommodation in Portland, Oregon
Price of luxury hotels in Portland
Like any city, the cost of accommodation in Portland can vary greatly depending on your budget and tastes. If you're looking for a city center location and quick access to the downtown area then be prepared to pay anywhere from $90 for a basic double room per night, up to $300+ for luxury hotels. Yes, hotel prices in Portland can take a big chunk of your travel budget, especially if you have an expensive taste.
If you're looking for some of that quirky Portland charm, there are boutique hotels such as the Hoxton or the McMenamins Crystal Hotel for around $180 per night if you book in advance.
Here are more 3 great options of hotels in Portland, Oregon:
An upscale atmosphere awaits at Canopy Hilton Portland, very well located in the Pearl District. It's a short walk from Powell's City of Books, Lan Su Chinese Garden and Voodoo Donuts, and only 6.2 mi away from Portland's International Airport. Bathrooms have designer bath toiletries, and the fancy rooms come with a refrigerated drawer and a gourmet coffee machine. There are bicycle rentals, as well as ice and water refill stations for customers' convenience.
Click here to see the rooms and book your stay at Canopy by Hilton Portland Pearl District.
Eastlund grants an exceptional stay in Eastside Portland for both business and leisure. The hotel features 2 on-site restaurants, with rooftop deck seating and skyline views. Temperature-controlled rooms and their bathrooms are fully equipped. There's a fitness center, and free Wi-Fi – advanced high-speed Internet is available for a fee.
A lovely and affordable hotel in Portland. Silver Cloud offers comfortable rooms with all the basic needs, along with free WiFi and a 24-hour accommodating staff. They have a bar and free parking on-site. Besides, there are many nice shops and restaurants nearby.
Click to see the rooms, prices and book your stay at Silver Cloud Hotel.
Price of mid-range accommodation in Portland
To keep your Portland trip costs low, the best way to find cheap hotels in Portland is to search for the ones located in the suburbs and use transit to get downtown, which can take just 10 minutes. In these areas, you're more likely to find Airbnbs which will meet your needs.
When searching for Portland budget hotels, have a look at North Portland. It's a cool area with many vibrant and quirky neighborhoods around areas like Alberta or Mississippi. Here you can find Airbnb apartments for $60-$180 per night.
Did you know you can rent a room, an apartment or cheap places to stay in Portland on Airbnb? Curious? Sign up here and get a discount on your first booking!
Price of budget hotels in Portland, Oregon
Hostels are the best option for budget travelers looking for cheap accommodation in Portland. Hostels in Oregon can be found for as little as $38 per night. There isn't really any party hostel scene in Portland, but the hostels you do stay in are pretty much guaranteed to be super friendly, laidback and helpful.
Here are three options for where to stay in Portland on a budget:
Hi – Portland Northwest is a cute hostel sitting less than a mile away from downtown and only a 10-minute walk from Pearl District. It features mixed, male-only and female-only rooms, as well as private rooms with shared bathrooms. There's a fully equipped kitchen, laundry facilities, and bicycle rentals. They offer free WiFi and breakfast with fresh hand-rolled bagels, toppings and beverages.
Check the rooms and book your stay at Hi – Portland Northwest Hostel here.
As the name suggests, this can be your home away from home. The Travelers' House has a warm environment and pretty decor. The automated check-in enables guests to use facilities or store luggage before the room/bed is ready. There's a shared kitchen, a shared bathroom, and different configurations of reasonably large rooms. The helpful hosts also offer bike hire – it's a popular cycling area, so this can be useful.
Click here to book a bed or a room at Travelers' House Portland.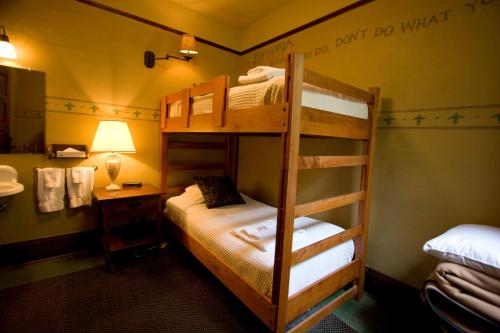 The cool McMenamins White Eagle provides tidy rooms with access to shared bathrooms and a bar. There's live entertainment every night at the White Eagle Saloon to pair with hand-crafted beers and local-inspired food. Friendly staff, great location, comfort and free WiFi, all for a bargain.
Check out the place and book your stay at McMenamins White Eagle Rock & Roll Hotel.
Are you having trouble finding the perfect room in Portland? Don't panic! Read our Accommodation Guide (click here), you will find tips on how to search and where to book the best hotels, hostels and Airbnbs.
Cost of attractions in Portland, Oregon
Portland has such a large range of attractions and the best part is a lot of them can be done for free or extremely cheaply. It doesn't matter if you are going for a weekend in Portland or planning to stay longer. You will have busy and fun days ahead, that's for sure.
See the famous Powell's City of Books is completely free. With 3 floors of books, this iconic store should be one of your top free things to do in Portland. Check out their event schedule for free events happening too.
The Portland Art Museum is just $20 to visit and is home to famous artists, including Monet and Jackson Pollock. For more cultural immersion, visit the Lan Su Chinese Garden, tucked in a city block in the center of downtown, where tickets cost $12.95.
For those who like spooky stories, there is a ghost tour in Portland that passes by the Lan Su Chinese Garden. You can check the itinerary and book your Portland Downtown Ghost Tour here for only $23.
Another activity worth the money is the 2.5 Hour Dinner Cruise Through Downtown (click here to book). You get to cruise the city, enjoy the views with a guided explanation, and have dinner on the way.
You can visit the famous International Rose Garden for free; although the flowers only bloom seasonally, the gardens are beautiful to explore. For other outdoor activities, spend some time visiting Washington Park, which is not only home to the Rose Garden, but also the zoo and plenty of outdoor green space to enjoy in the city. In the north of the city is Forest Park, a huge area full of trails to enjoy for free and within easy reach of the city.
If you're looking for incredible views of the city, then take a walk up the West Hills of Portland to Pittock Mansion, a French-style chateau on the peak with incredible views over the city. On a clear day, you can see Mount Hood from here too. The entrance to the park and paths around the Mansion are completely free. If you do want to go inside the Mansion the entry is $12.
You can combine a visit to the International Rose Garden and Pittock Mansion with a guided morning tour of the city. By doing so, you can optimize your time and get to know more about the city without compromising your Portland budget. The Portland Morning City Highlights Tour and other interesting tours in Portland are available on GetYourGuide website. You can book them in advance and if you change your mind, you can cancel it 24 hours before and receive a full refund.
If you're in the city on a Saturday then the Portland Saturday Market is a must-visit and it's free, although after you've seen the arts and craft stalls, you'll probably be tempted to buy something!
Cost of exploring Portland region
As previously mentioned, you can easily reach many of Oregon's famous natural attractions in around an hour from Portland. These day trips from Portland are great for those who want to explore the city and do a bit of exploring around Oregon State.
Renting a car is a great way to do that and can cost as little as $20. However, it is highly recommended that you purchase an insurance package for your vehicle which will take the cost up slightly depending on your age, vehicle type and rental agency.
To find the best car rental deals in Portland use Rentalcars or AutoEurope websites.
You can reach the Oregon Coast in 1.5 hours and see the beautiful Ecola State Park or Cannon Beach. If you drive east along the Columbia River, you can reach the famous Multnomah Falls in just 30 minutes from the city.
For those who don't want to drive or don't want to spend on car rental, another option to explore the beautiful region is going on day tours from Portland. Here are a few options of day trips around $100, including transportation and activities:
If you have more than a day to explore the region, a trip to Bend can be a great option. It takes roughly 3 hours to get there, but there are so many great things to do in Bend, Oregon, making the long ride a worthwhile trip.
Don't forget to buy your Travel Insurance!

We use World Nomads and SafetyWing. Just click on the name of the company and book your insurance now. If you need more information, read our Travel Insurance Guide here.
Cost of food and drink in Portland
While the budget travelers among us would usually prefer to buy food from a supermarket, it would be a mistake to miss out on trying the famous Portland food scene. Luckily, Portland food and drink experiences come at a great price too.
There are yummy and cheap places to eat in Portland. The world-famous Voodoo Donuts will set you back just $1-$4 per donut. Head to vegan-friendly Bye and Bye for super cheap and super-filling rice bowls for $12. Or, for the brunch lovers, you have to head to Miss Delta's on the fun Mississippi Avenue and try their biscuits and gravy for just $7 or chicken and waffles for $13! Doing a bit of research, you can find good mid-range and cheap restaurants in Portland, that's for sure.
And make sure to look out for food trucks or local eateries in the suburbs to keep your food costs down. You'll find huge burritos for $4 or massive pizza slices for $3.50 if you're looking for a cheap lunchtime snack.
If you're a craft beer fan, then visit one of the local breweries, such as Hair of the Dog Brewing Company or Base Camp Brewing Company, where a locally brewed craft beer costs as little as $6.
Salt & Straw Ice Cream is another Portland institution with eclectic ice cream flavors such as honey lavender, Beecher's cheese & apple pie, gooey chocolate brownie and pear & blue cheese. A scoop is around $5 but the serving size is huge!
So, how much does it cost to travel to Portland, Oregon?
While Portland might not be the cheapest place to visit in the world, it is definitely a great option if you're looking for a reasonably priced city to visit in the US. Portland prices are nowhere near as high as other major cities like New York or Los Angeles, and you can do it in a very luxurious way or on a budget; it's your call.
So, how much does a trip to Portland cost? Below is a breakdown of the Portland travel budget per day per person:
Portland travel costs for luxury travelers – $410+ per day

Accommodation $200

Car rental $30

Transit and taxis $50

Attractions $50

Food and drink $80+
Portland travel costs for mid-range travelers – $185 per day

Accommodation $100

Transit $5

Attractions $30

Food and drink $50
Portland travel costs for budget travelers – $90 per day

Accommodation $40

Transit $5

Attractions $20

Food and drink $25
Now that you know how expensive Portland is to visit, it's easier to plan a trip and spend wisely. With some pre-planning and booking in advance, it is more than possible to keep your trip to Portland on a budget and still enjoy the cultural sights, attractions and great food that this city has to offer.
Spending 3 or 4 days in the city as a long weekend or as part of a longer trip to explore more of the Pacific Northwest is perfect for those looking for a taster of what this eclectic, unique and vibrant city has to offer.
It doesn't matter how much you are willing or can spend in Portland, the city is a great destination and shouldn't be missed. For more tips on organizing a travel budget, planning your travel expenses and saving money, read our Cost of Traveling Guide (click here).
Love this Portland travel costs guide? Pin it for later!!
---
Author: Helena Bradbury
Helena's aim has always been to show that travel can be affordable and accessible for those working a full-time 9-5 job. With a full-time job in the UK, she has traveled to over 60 countries on a budget and shares how you can as well over on her blog. You can follow along with her adventures on Instagram and Pinterest.