Are you ready for Ironman Bolton, England?
Ironman season is almost upon us, and the next stop in the series takes place in one of the friendliest towns in the United Kingdom – Bolton.
Bolton is located in North West England and is part of the Greater Manchester area.
Bolton city will play host to one of the stops of the Ironman Europe series and is often considered one of the best-supported and epic races in the entire Ironman calendar.
Aside from the incredible spectator support, Bolton and its surroundings boast some of the most beautiful scenery out of any of the other Ironman races. This is some sure motivation for those athletes who hit the pain station while competing.
Ironman Bolton UK happens on the 30th of June 2024, which is bang in the middle of the UK summer season. However, it's the UK after all – summertime doesn't necessarily mean bright sunshine, blue skies, and no wind. But fingers crossed for great weather for this year's event weekend!
Ironman Bolton 2024 Race Details
Ironman Bolton is England's only full-distance Ironman and consists of the traditional swim, bike, and run. And the event itself starts a few days before the race day.
Thursday, Friday, and Saturday are important days for the athletes with event registration, race briefing, bike drop (check-in), a visit to the athlete village, and more.
Along with the Ironman day events, the Night Run UK 2024 will happen on Friday (June 30th) at Victoria Square, Bolton city center. Event time: 7 pm.
Locals, supporters, and triathlete family members can choose between 5K or 10K distance races suitable for kids over 11yo. The course is flat passing by Queens Park, and runners must keep a time limit of 12 minutes/km.
You can register for the Night Run here.
Important information for Ironman athletes: the swim course and Transition 1 are a bit of a distance from Bolton town, you have to plan and register from the Shuttle Bus service.
Athletes and spectators can take the shuttle bus from Bolton town center to the swim start on Sunday from 03:20 am to 10:30 am. The shuttle is free for athletes, £5 for adults, and £3 for kids.
Remember that your family, friends, and supporters must buy the ticket in advance.
For those planning to drive on the race day, plan to leave for the start line a bit early in the morning. The journey can take longer due to closed roads.
Another interesting fact about Ironman UK Bolton is that it offers slots for Ironman World Championship for Pros and Age Groupers. The Women's world championship will happen in Kailua-Kona, Hawaii, and the Men's in Nice, France.
So get your pace on and focus on that finish time, maybe you put your name in one of those slots.
Ironman Bolton Swim Course
The swim takes place in the lake at Pennington Flash Country Park, which is a piece of history in itself. The park was opened in 1981 and has welcomed users since with its idyllic scenery and of course, the beautiful lake.
The two-loop swim is arranged in a triangular sequence consisting of 3.8km or 2.4 miles, starting and ending adjacent to the Pennington Golf Course. Enjoy the scenery when going from the swim exit to the T1.
Avg water temp Fahrenheit 68º/Celsius 20º.
Be prepared for warm and also cold water, it's the UK so you never know. In 2019, the average water temp was Fahrenheit 62º / Celsius 17º. It's not as cold as those extreme triathlons in Northern Europe, but if you are not used to temperatures below 68Fº/20Cº, this can be an extra challenge.
Ironman Bolton Bike Course
The North West English Bike course scenery is considered to be one of the best of all Ironman Europe courses.
The three-loop bike laps course totals 180.2km or 112 miles and takes competitors from Pennington Flash to Bolton in an anti-clockwise direction, before commencing the three loops around the town. After heading north of the town, the cycle comes to an end in the center of Bolton.
Expect a rolling, hilly bike course profile with two 2 aid stations in the course. You'll pass by them on the 3 bike legs.
Avg air temp Fahrenheit 66º/Celsius 19º.
Ironman Bolton Run Course
To end off this full-distance triathlon is a four-loop run totaling 42.2km or 26.2 miles. The run starts in the town center and proceeds to pass through Queen's Park and Chorley New Road, then for the impressive finish in Victoria Square.
Competitors need to note that both the run and the cycle routes are considered hilly. So, make sure that you are adequately prepared, and that your calf muscles are ready to burn on the event day!
Overall Bolton Ironman is a difficult event. The weather is unpredictable, and the hills are tough, the logistics to get there and get around aren't that smooth. However, the iconic spectators cheering for you and the famous finish line experience make up for everything.
For inspiration, you can check the past Bolton Ironman results and athletes' qualifying times here.
If Bolton Ironman Triathlon looks too much for you, or it doesn't fit your training agenda, then have a look at these other full-distance Ironman events:
Now that we've covered the basics and what to know about the UK Ironman Bolton, we can move on to the business end of things.
I'm talking about accommodation considerations and places to stay in Bolton. Before I get to the best hotels in Bolton, there are a few things that you should always consider when booking your accommodation.
This will ensure that you get exactly what you need to suit your athletic needs. Let's take a look!
What to consider when choosing your hotel for Ironman Races
Choosing a hotel for a regular family holiday or business is one thing, but when you're an Ironman athlete, it's a different kettle of fish. You're going to have your bike with you, for starters, and it needs a safe storage space for the trip.
But let's not get ahead of ourselves! One thing at a time. Here is my list of top considerations to think about when choosing a hotel for the Bolton Ironman Triathlon UK:
I've said it before, and I'll say it again – location, location, location! You're going to want to position yourself conveniently within the town. I'm talking about convenience in terms of distance to the start and finish lines of the race.
Is there a gym, sauna, or steam room? As an Ironman athlete, recovery is of the utmost importance. A sauna or steam room post-event or warm-up training is crucial. A gym is also great to warm up and keep on track before the event.
Your budget will dictate where you stay. Not every athlete is flush with cash and will therefore need to be careful when it comes to spending too much on accommodation in Bolton for the Ironman event.
Is it bike friendly? Remember I mentioned before that you'll have your bike with you? Well, you're going to have to make sure that the hotel is bike friendly and will allow your iron horse to stay too.
What is the hotel's cancellation policy?
Are there any meals included? Does the hotel have its own in-house restaurant?
Are there tourist attractions close by? You're going to want to explore on your days off, either before or after the race
Lastly, check the hotel's reviews. This is the best and easiest way to get a feel for the place and what it offers. You will quickly be able to figure out if it's the place for you, or not.
The Best Hotels for Ironman Bolton 2024
An important thing to note is that the swim course at Pennington Flash is a little way out of town. However, both the run and the cycle routes end in Bolton and are a quick commute from the town center (remember that you need to be aware of the road closures around the event region).
Right, now let's get down to the crux of this article – where to stay in Bolton. I've hand-picked a list of five hotels in Bolton that are great options to consider for your time in the town.
These Bolton hotels offer up some of the best amenities for your athlete's needs.
The hotel offering in Bolton is much more limited in terms of availability within the town center. But as an Ironman athlete, a little commute never hurts. Think of it as a warm-up before the event.
Address: Manchester Rd, Bolton, BL6 5RU, United Kingdom.
Distance to the start: 16km, about a 25-minute car ride.
Distance to the finish line: 11km, about an 18-minute car ride.
Mercure Bolton Georgian House Hotel boasts a 7/10 rating across more than 750 reviews. As I mentioned above, none of the hotels are particularly close to the start and finish points of the race. But where they lack the convenience of location, they make up in other avenues.
The Mercure Bolton Georgian House Hotel has both a fitness center and an indoor swimming pool for all your athlete requirements. There's also a brasserie in the hotel and free parking for guests, which is perfect if you've hired a car.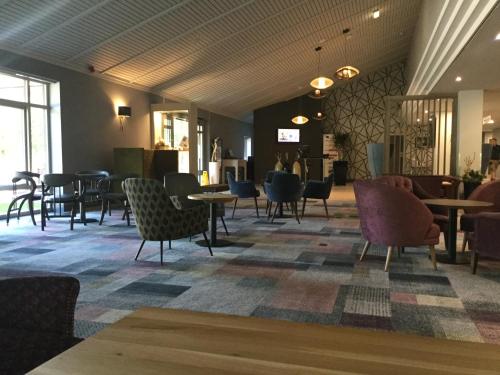 Address: Worsley Brow, Worsley, Worsley, M28 2YA, United Kingdom.
Distance to the start: 13km, about a 15-minute car ride.
Distance to the finish line: 14km, about an 18-minute car ride.
Novotel Manchester West has a rating of 7.9/10 from the more than 2,000 guests that have stayed there. It has both a bar and restaurant on the property and again has free parking for guests. There is also that much-needed fitness center to keep the body in check before the race.
Address: Sale Way, Leigh, WN7 4JY, United Kingdom
Distance to the start: 800 meters, 2-minute cycle (6.7 miles) or a 10 minutes walk.
Distance to the finish line: 15km, about a 30-minute car ride.
The Holliday Inn Express Leigh has an average rating of 8.4/10 from more than 1,400 guests. The big draw card here is the location of the hotel, it's the closest option to the swim course.
The hotel has a 24/7 fitness center and offers breakfast and an onsite restaurant.
Address: Worsley Park, Worsley, M28 2QT, United Kingdom.
Distance to the start: 14km, about a 19-minute car ride.
Distance to the finish line: 13km, about a 16-minute car ride.
The Delta Hotels by Marriott Worsley Park Country Club hotel has the highest user review thus far – 8.1/10 from just shy of 1,500 guests. It's easy to see why though. There's an awesome indoor swimming pool, a spa and wellness center, and free parking for guests.
If that's not enough, there's also an 18-hole golf course for those avid golfers to have a knock-around in their off-time.
Address: Bolton, BL1 1HU, United Kingdom.
Distance to the start: 16km, about 30 minutes driving.
Distance to the finish line: 400 meters, a 3-minute cycle or a 5-minute walk.
Lastly, changing it up a bit is another option for athletes purely because of its prime location to the start and finish lines. This one-bedroom apartment is within walking distance of the finishing line in Bolton.
The beauty about an apartment Is that it's self-catering so you don't need to spend big bucks on food.
While there are no fancy facilities like a hotel, you can always do your own run or cycle to warm up and do some stretching in the local park.
How to get to Bolton, UK
Depending on where you are coming from, getting to Bolton might be a long journey. But you are an Ironman, so distance is not a problem, right?!
Bolton's nearest airport is Manchester International Airport, which is located 32 km/ 20 miles away from town. From Manchester Airport to Bolton city by bus, train, and car. If you are using public transportation, it can take around 40 to 50 minutes, while driving it will 25-30 minutes
Another option is to fly to Liverpool John Lennon Airport. From there you can take a train to Bolton (1h 15 minutes) or a direct bus from the airport to Bolton bus station, the bus trip duration is approx. 1h 10 minutes. If you drive, the trip takes between 45 minutes to 1 hour.
You can find the best flights to Manchester on Skyscanner.
For the athletes living in the UK, traveling around the country, or arriving via another airport, you can reach Bolton via bus and train.
Renting a car is also a good idea, as you can pack together an Ironman competition and a road trip in the UK. You can reach Bolton via M60, M61, and M6 roads.
Having a car can be handy not only to travel to Bolton but also for getting around the city.
Check the best car rental prices here.
If you plan to use public transportation check out the Bolton Council website for the city bus information, as well as the walking and bike routes, in case you want to stretch your legs after Ironman.
Travel Advice:
Don't forget your Travel Insurance! You don't want anything to ruin your trip, right? So don't take the risk! Reliable travel insurance can help you in case of travel issues, from accidents to health problems, travel delays, and lost luggage.
There are many insurances in the market, our picks are HeyMondo and SafetyWing. We used both and always had a good experience. Click on the insurance names to get a quote.
Things to do in Bolton after Ironman 2024
Now that you know how to travel to Bolton, booked your Ironam hotel is time to think about what to do in Bolton post-race.
After celebrating your Ironman medal with a well-deserved pint or cup of tea, what about strolling around town at a more relaxed pace?
Places to visit in Bolton city center:
Bolton Museum, Art Gallery & Aquarium: it features exhibits on natural history, local history, and art, as well as an aquarium.
Hall i' th' Wood Museum: a historic house museum dating back to the 16th century and was once home to famous architect Samuel Crompton.
Bolton Steam Museum: a museum dedicated to the history of steam power, with interesting exhibits on engines and machinery.
Fred Dibnah Heritage Centre: A museum dedicated to the life and work of the famous steeplejack and TV presenter.
Attractions outside Bolton worth visiting:
Smithills Open Open Farm: a family-friendly farm with animals, play areas, and a cafe.
Jumbles Country Park: a large park with walking trails, picnic areas, and a lake for fishing.
Turton Tower: a historic house and gardens dating back to the 15th century and features a tea room and gift shop.
Moses Gate Country Park: a large park with walking trails, fishing lakes, and a nature reserve.
Last Drop Village: a village of historic buildings, including a hotel, shops, and restaurants, that was once a popular stop for travelers.
Rivington Pike: a hill that offers stunning views of the surrounding countryside and has a tower on the summit that can be climbed.
Once in Bolton UK, you can also visit the beautiful and romantic York, which is only 1 hour 30 minutes by car or almost 2 hours by train.
Ironman Bolton 2024 – An unmissable triathlon in UK
Now you are sorted, from your Ironman accommodation in Bolton to things to do, and even how to get there and around.
With everything organized, you can focus on the training and be ready for this tough Ironman race.
I wish you a great competition and maybe see you in Bolton England Ironman!
Did you like this Bolton Ironman Guide? Pin it for later!