Have you taken the plunge and entered the Ironman Hamburg 2024? If you've answered "yes" then congrats and good luck! If not, there's still time! Rather a "whoops" than a "what if".
The beautiful, open-minded city of Hamburg, located in northern Germany, will play host to one of the stops of the 2024 Ironman Europe Championships. Hamburg, referred to as "The Gate of the World", will serve as one of the events offering qualifying slots for the VinFast Ironman World Championships later this year.
The event takes place on the 2nd of June 2024, and winds through the picturesque city and its surrounds. Luckily for competitors, the weather in June is some of the best, with average temperatures hovering around the 20-degree Celsius mark.
This guide will take you through a few important points about Ironman Hamburg 2024, what you need to consider when booking a hotel for this triathlon competition, where to stay for Ironman Hamburg, and we wrap up with travel tips. So keep reading!
Ironman Hamburg Race Details
The Ironman European Championship in Hamburg is comprised of the traditional swim, bike, and run, as with all of the events.
The scheduled race is set to start on June 4th at 06:15 with Pro Athletes, and from 06:20 to 07:30 will be the Age Groups rolling start. But like all challenging triathlons, the event starts before the race day and you better be there to enjoy all the incredible moments.
Keep in mind that event registration is open from Thursday, June 1st to Saturday, 3rd. The athlete briefings are scheduled for Friday afternoon, and the Bike Check-in is Saturday from 14:00 to 19:00.
Said that, when booking your accommodation in Hamburg think of the time you'll need to get ready for the competition and to relax after getting your Ironman medal.
Below are some details and distances of this Ironam race.
Ironman Hamburg Swim Course
The 3.8km/2.4-mile swim consists of one loop, starting at the Jungfernstieg jetty. It then passes through both the Binnenalster and the Außenalster lakes to finally end adjacent to Rathaus.
Ironman Hamburg Bike Course
Next up is the 180km/111.8-mile two-loop cycle that starts and ends at the Ballindamm. It takes competitors out past some of the most beautiful sights the city and surroundings have to offer.
Think Reeperbahn, the Landungsbrücken, and the city's fish market. The route also heads out past the Vier- und Marschlande which contributes to the picturesque aspect of the route.
The route itself is fast and flat, so get ready to get your pace on!
Ironman Hamburg Run Course
Finally, the 42.2km/26.2-mile run completes this Hamburg triathlon and takes competitors on four loops through the city. As with the cycle, the route is flat and takes competitors through the real heart of the city. You'll pass the Alster Lake in which the swim takes place and finally finish at the Rathausmarkt.
You can find more details about this incredible triathlon in Germany on the Hamburg Ironman website. You can also check the Ironman Hamburg Overview 2023 to see how the pros' finish time, and the age group times.
And if you are looking for another Ironman in Europe that is worth adding to your race calendar check out our Ironman Frankfurt (Germany), Ironman Bolton UK, and Ironman Cervia-Italy guides. And if you are looking for an Ironman adventure overseas, then have a look at Ironman Langkawi.
Right, that's enough about the route and races, next up – where to stay in Hamburg!
I've got you covered in this Hamburg hotel guide with some of the best hotel accommodations on offer in the city. But before that, a few considerations when picking your accommodation in Hamburg.
What to consider when choosing your hotel for an Ironman triathlon competition
There are a few things you're going to want to consider when choosing your hotel in Hamburg ahead of the Ironman competition. They are as follows:
First and foremost, your budget. Are you going low-end, mid-range, or high-end?
How many days are you staying in Hamburg? Will it be a weekend trip, or are you planning to stay longer for sightseeing?
Is it bike friendly? You're going to need a place to store your iron horse when you're not using it.
Location, location, location! You must find a place that is conveniently located in the city for the start and finish lines.
What is the cancellation policy of the hotel? Important in the uncertain times that we live in.
Is there a gym and a sauna? These will come in handy leading up to the event and post-event.
Does the hotel have a restaurant? Is breakfast included?
Check the reviews beforehand and avoid the dodgy places (obviously).
What attractions are close by for some touristy days off?
The Best Hotels for Ironman Hamburg 2024
Now we can start to look at some of the best places to stay in Hamburg. For the purpose of this guide, we're going to focus on the best hotels in Hamburg city center because you're going to need a comfortable place to stay that is close to Ironman's start and finish lines.
An important note is that the official race hotel for the event is the Scandic Emporio Hamburg. But I know that not everyone likes to stay in the official hotel as it can be busy, loud, and intense. Also, the Ironman official hotel has limited spots, that's why we create this guide with the best hotels in Hamburg for Ironman and leisure, in case you decide to stay longer.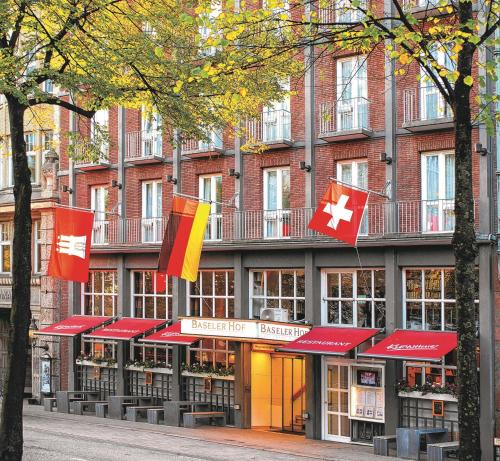 Address: Esplanade 11, Hamburg Neustadt, 20354 Hamburg, Germany.
Distance to the start: 7-minute walk (550m). 2-minute cycle (750m).
Hotel Baseler Hof boasts an impressive 8/10 rating based on more than 2000 guest reviews. The hotel is conveniently located a mere few hundred meters away from the start line and has all that you need to make your trip both comfortable and enjoyable.
Aside from warm, cozy en suite rooms, the hotel has a fitness center, restaurant, and a stay includes a three-day public transport ticket.
Address: Dammtorwall 19, Hamburg Neustadt, 20355 Hamburg, Germany.
Distance to the start: 10-minute walk/3-minute cycle (750m).
As I mentioned above, the Scandic Emporio Hamburg is the official accommodation partner of the Ironman Hamburg 2024. The hotel is conveniently located from both the start and finish lines, hands down it is the best area to stay in Hamburg Ironman.
The hotel has a fitness center, private parking for those who decide to hire a car, and an amazing restaurant called H2O. The Scandic Emporio Hamburg also boasts a rating of 8.4/10 from more than 7000 guests – you know it's bound to be good then!
Address: Schaarsteinweg 4, Hamburg Neustadt, 20459 Hamburg, Germany
Distance to the start: 16-minute walk/5-minute cycle (1.2km)
The Madison Hotel Hamburg is located slightly further away from the start and finish lines in comparison to some of the other hotels. But what're a few hundred meters for an Ironman athlete anyways?
The hotel boasts an impressive 9/10 rating as per its guest ratings of more than 3000 reviews. All the 4-star studios and suites have a fully-equipped kitchenette so that you can prepare your own meals at your accommodation in Hamburg. This is great for those athletes who follow a strict eating regime. There's also a fitness center for guests to use.
Address: Neuer Steinweg 26, Hamburg Neustadt, 20459 Hamburg, Germany.
Distance to the start: 15-minute walk/5-minute cycle (1.1km).
The Adina Hotel Hamburg boasts an 8.4/10 rating from 2000 guests that have stayed at the hotel – and it's no surprise. There is not only a gym and sauna but an indoor heated swimming pool too. This is great for a warm-up swim before the event starts.
Aside from that, the studio apartments have their own private kitchen and an inner courtyard balcony. The in-house restaurant, Alto, serves Australian-inspired cuisine with a great selection of wines too (for after the Ironman Hamburg, of course!)
Address: Neanderstr. 20, Hamburg Neustadt, 20459 Hamburg, Germany.
Distance to the start: 14-minute walk/5-minute cycle (1.1km).
The Lindner Hotel has an average customer rating of 8.4/10 from more than 3000 customers. There are two places to have something to eat and drink – Restaurant Sonnin and Bar Lacoon. The latter serves up snacks, cocktails, and of course, German beer.
One of the best features of the hotel is the Lindner Fit and Well spa. It offers both a sauna and steam room which are perfect for some downtime after the grueling Ironman Hamburg.
If you are still in doubt about where to stay for Ironman Hamburg, Germany, keep searching on Booking.com. I like to use the website filter, so you can find the perfect hotel for your race needs.
We also share more tips on how to find and book the perfect hotel in Hamburg our Accommodation Guide.
Now that you have two most important things sorted, your registration and the best places to stay for Ironman Hamburg, let's move to practical travel tips.
How to get to Hamburg, Germany
It doesn't matter where you are coming from, getting to Hamburg, Germany, is easy as the city is well connected with international flights, trains, and buses.
Hamburg Airport serves over 100 destinations, check the flights and rates at Skyscanner.com.
The airport is located about 12 km from Hamburg city center, the journey takes 25 minutes by train and approximately 30 minutes by car. At the airport you can find several car rental companies, we suggest booking well in advance to secure a good rate.
If you are arriving by train, chances are that you will disembark at Hamburg Hauptbahnhof, the city's main train station. This station has lines to the main cities in Germany and international services to cities like Basel, Zurich, Prague, Budapest, Copenhagen, and Vienna.
Travel Advice:
Don't forget your Travel Insurance! You don't want anything to ruin your trip, right? So don't take the risk! Reliable travel insurance can help you in case of travel issues, from accidents to health problems, travel delays, and lost luggage.
There are many insurances in the market, our picks are HeyMondo and SafetyWing. We used both and always had a good experience. Click on the insurance names to get a quote.
Things to do in Hamburg after Ironmam
Now let's talk about enjoying Hamburg attractions. The city is a great destination, and if I were you I would spare a couple of days after the Ironman race to visit the city.
This is not a guide about what to do in Hamburg, but I'm going to give you a few tips.
Here is a list of places to visit in Hamburg, things to do, and experiences any visitor must have there:
If you are short on time, you can always book a guided tour or a hop-on hop-off tour to make the most of your days in Hamburg and leave the city not only with your Ironman Hamburg medal but also with great memories of enjoying this great city.
Are you racing Ironman Hamburg for the first time? Or are you a regular at the Hamburg triathlon competition?
We hope this guide about the best hotels in Hamburg Ironman helps you to make the most of your trip and enjoy this exciting race destination.
Wishing you an amazing Ironman, and maybe see you there!
Did you like these tips on the best place to stay in Hamburg for Ironman? So don't forget to pin this post for later!