Recently, Lisbon has become one of the most visited European cities, attracting many tourists to its golden shores. The city is full of colors, culture and history, and there are lots to explore. Lisbon, Portugal, is also known for its warm and sunny weather, friendly people and delicious cuisine. With so many things to do in Lisbon, the city has become a trendy destination hence the question: is Lisbon expensive to visit?
In general, Portugal is not an expensive travel destination, but Lisbon prices can be quite tricky as in any country's capital. But how expensive is Lisbon?
If you are planning to visit Lisbon, keep reading. In this post we are talking about Lisbon prices, from transportation to hotels, including the cost of food, drinks, attractions and tours. It's time to dive into how much it costs to travel to Lisbon, the average daily budget, and how you can save on your trip to Portugal's capital.
Is Lisbon expensive to travel to? Yes and no, it all depends on where you are coming from. But don't panic, there are ways to save money on flights and public transportation and this is the first topic of our Lisbon cost of travel breakdown.
Cost of flights to Lisbon, Portugal
Flights to Lisbon can be pretty cheap, especially if you are flying from any destination in Europe. Most low-cost airlines like Ryanair, Jet2, EasyJet and WizzAir have regular flights to Portugal's capital. The price of low-cost flights to Lisbon can vary depending on the country of departure, but you can buy flight tickets as low as 10 euros, especially if you have flexible dates and travel only with hand luggage.
However, if you fly from the USA or the eastern part of the world, then the prices will be a bit higher. For example, a flight from New York to Lisbon would cost around 400 euros and a flight from New Delhi to Lisbon around 600 euros.
Luckily, Lisbon is a travel destination with a very strategic location and most of the international airlines have regular flights to the city. On top of that, most of the flights coming from the States and South America usually stop at Lisbon airport from where people make their connections to other destinations in Europe.
Search for the cheapest flights to Lisbon using Skyscanner or Kiwi.com.
Lisbon public transport prices
The transport network in Lisbon works perfectly, combining many means of transportation. You can choose from trams, buses, trains, metros, lifts and taxis. However, the most used one is probably the metro, as it is also the fastest way to go from one point to another in the city in a couple of minutes.
Lisbon is a huge city, and for sure, you will need to use its public transportation system. Thus it is good to purchase the Viva Viagem card, which costs 0.50 euros and can be reused and re-charged all the time. Lisbon metro price is 1.50 euros for a single ticket valid for 1 hour and it can also be used on all means of transport.
If you plan to use public transportation a lot, it is better to opt for the daily ticket, which costs 6.40 euros and is valid for 24 hours. With the Viva Viagem card, you can even get a ferry to go to the other side of Lisbon for less than 3 euros.
In case you plan or need to use taxis, be careful as Lisbon taxi prices can be expensive. It's better to use Uber or Bolt, which are cheaper and safer options. To give an idea, the cost of taxis in Lisbon is 0.47 euros per km and the start tariff is 3.50 euros.
Cost of Accommodation in Lisbon, Portugal
There are lots of options for accommodations in Lisbon. Whether you would like to stay in a hostel, apartment, hotel, guest house, boat, or tent near the city, Lisbon has it all. With this great variety of places to stay, the accommodation prices in Lisbon can vary a lot, which depends mainly on the location of the place and its type – budget or luxurious.
If you are traveling to Lisbon on a budget, you can find a place to stay for as little as 15 euros per night per person. Mostly, this would mean choosing a cheap hostel in Lisbon. We researched and listed below a few options of cheap stays in Lisbon that have good location and reviews; check them out.
Best hostels in Lisbon, Portugal: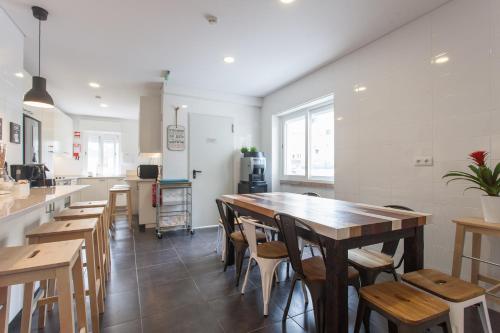 A lovely hostel in a great central area, near a supermarket and cafes. It's a 10-minute walk from Saldanha, Picoas and Arroios metro stations. Be Lisbon Hostel Estefania features a family room and dormitories with shared access to neat bathroom facilities. While some rooms have balconies, the superior double room has its own private bathroom. They have a storage area, a shared kitchen and a dining lounge.
Check the property and book your stay at Be Lisbon Hostel Estefania here.
Goodmorning All-inclusive is one of the best hostels in Lisbon, located in the heart of the city, only a short walk from Restauradores Square, the metro station and the Rossio railway station. The property, set on a renovated 1930's building, has modern bright decor, spacious rooms and bathrooms. Fresh waffles are served every morning by the friendly staff. They organize cocktail nights and walking tours.
Click to have a look and book your room at Goodmorning All-inclusive Hostel.
For those who want something more private, then you can find apartments to rent in Lisbon for 30 euros per night. Use Airbnb (click here to search) to find the best and the cheapest apartments in Lisbon. On the website, you will find from private apartments to private rooms in someone's house, so you can choose the option that suits your taste and pocket.
Using Airbnb for the first time? Then click here to sign up and get a discount on your first booking!
However, if you don't mind spending more pennies on accommodation, then there are many options for hotels in Lisbon, with some luxury ones starting at 100 euros per night. Lisbon hotel prices can vary a lot; below is a list of the best hotels in Lisbon from budget to 5-star, so you can have a better picture of the prices and types of accommodation you can find in the city.
Cheapest hotels in Lisbon with good reviews and location:
Among the low-cost hotels in Lisbon, Browns Downtown certainly shines. Offering trendy rooms, with hi-tech workstations, in the historical downtown area, near attractions, restaurants and shops. Rooms include a coffee maker and, electric kettle and usually come with a complimentary wine bottle.
Book your accommodation at Browns Downtown Hotel in Lisbon here.
Hotel Fenix Garden features comfortable boutique-style rooms in the center of Lisbon, next to a bus stop and the metro station. There's a Nespresso machine available for guests and a fresh breakfast each morning. Great value for your money with helpful staff and fluffy towels.
Check the rooms and book your stay at HF Fenix Garden Lisbon here.
Mid-range hotels in Lisbon with great reviews and location:
Amidst Chiado, Baixa and Cais do Sodré districts, Lx Boutique Hotel sits in a great neighborhood with plenty of places to eat and drink nearby. The elegant themed rooms come with a mini-bar, iPod docking station and unique views of Tagus River. They have 24h front desk, car hire and laundry services. Airport transfer is available upon request.
See the property and click to book your room at LX Boutique Hotel in Lisbon.
A wonderful little hotel in a secluded central location, just a 5-minute walk from Castelo de São Jorge. At Memmo Alfama – Design Hotel you'll enjoy a traditional Portuguese atmosphere with a high-end and welcoming structure. Beds include Egyptian linen and bathrooms come with free toiletries and 100% cotton towels. They feature a wine bar, and an outdoor pool overlooking the Tagus River. Guests often praise the breakfast buffet!
Click here to book your stay at Memmo Alfama – Design Hotel Lisbon.
The best hotels in Lisbon for a luxury stay:
This 5-star hotel in Lisbon offers amazing panoramic views of one of the nicest parts of the city. First-class services and large classy rooms equipped with all the amenities. Guests are welcome to enjoy the outdoor pool and 2 onsite restaurants serving international cuisine and Portugal seafood specialties.
Check availability and book your room at Tivoli Avenida Liberdade here.
If you're looking for a luxurious hotel in the heart of Lisbon, you may just have found the one. Gorgeous rooms with large balconies and all the essentials, plus bathrooms with L'Occitane toiletries. Lavish breakfast and dining options, an indoor pool and a rooftop fitness center with a running track overlooking the city. There's a spa with pampering treatments and a shuttle service to Lisbon International Airport – that's less than 5 mi away.
Book your stay at Four Seasons Hotel Ritz Lisbon now by clicking here.
Finding the right place to stay in Lisbon truly depends on your preferences and your pockets' size. Nevertheless, the city is full of options in terms of accommodations; there is plenty to pick from. Are you facing a hard time finding the perfect room that fits into your Lisbon budget? Then read our Accommodation Guide for tips on how to search and where to book the best accommodation worldwide.
Cost of eating out in Lisbon – food and drink prices
When it comes to eating and drinking out, Lisbon is quite affordable. A single meal in a cheap restaurant in Lisbon would cost around 8 to 10 euros, including a drink. A meal for 2 in a mid-range restaurant would cost something around 35-40 euros and this for two or three courses.
It's also good to mention the buffets in Lisbon, which are not to be missed. They can be found almost everywhere in the city and offer lots of traditional meal options. Usually, you can have 3 different meals and feast like a king for as little as 8 euros.
Lisbon food price is cheap if compared with other European capitals. You will eat well and try local recipes, even in a simple restaurant.
The situation with drinking out is almost the same as dining out. Bars offer two types of beers Sagres and Super Bock, which are the only Portuguese beers. The price of beer in Lisbon is around 2 euros, but this is for 330ml. However, depending on the bar and the location, prices can go way higher.
Anyway, if you plan to try these beers, check if they have draft beer, which should cost around 5 euros for a pint. In case you want an imported beer, then the price is a bit higher than the local ones.
Coffee in Lisbon, and in Portugal, is one thing you can't go without. Lisbon coffee is one of the best, and it costs around 1 euro for espresso or 2 for a cappuccino. Lisbon drink prices would be around 1 euro or 1.50 for water and Coca-Cola, but this depends entirely on the place you are buying them.
Is Lisbon expensive to visit and have fun?
Our Lisbon guide's last topic is the cost of tourist attractions and how to save in Lisbon. The tourist attractions in Lisbon are quite affordable and are lots of fun. For example, the most expensive attraction in Lisbon is the Oceanario de Lisboa. The Lisbon oceanarium prices are 10 euros for kids (4 – 12 yo), 19 euros for people between 13yo to 64 yo, and 13 euros for people above 65yo.
A good option is to buy the Lisbon Oceanarium skip the line ticket (click here to buy) that comes with a 48 hours ticket to the Lisbon Hop on Hop off bus, all for only 34 euros. You can save time while visiting one of the most famous attractions in Lisbon and save money on transportation.
Other places to visit in Lisbon are the Castelo de São Jorge and Monastery of Jeronimos, which cost 10 euros each. Torre de Belem and Padrão dos Descobrimentos cost 6 euros each, and the National Tile Museum, which is 5 euros.
A good way to save money, especially if you plan to stay in Lisbon for 2 days or more, is to buy the Lisbon Travel Card. You can choose between 24h, 48h or 72h, the Lisbon Travel Card prices are respectively 20 euros, 34 euros, and 42 euros. The price includes free public transportation, the Aerobus that connects Lisbon Airport to the city center, free entrance to 26 museums, monuments and UNESCO sites (as Torre de Belem and Monastery of Jeronimos), and discounts to tours in Lisbon and around.
The Lisbon Travel Card also offers discounts to tours in Evora (click here to read our guide) and transportation to Sintra, a city near Lisbon famous for the castles and palaces.
Click here to buy your Lisbon Travel Card in advance, and you can start using it as soon as you arrive in the city, like using the Aerobus from the airport to your hotel. The admission to the Pena Palace in Sintra is another ticket you must buy in advance. Usually, there are big queues to visit this famous and beautiful palace, so get your skip the line ticket to Pena Palace here and save time on your trip.
Overall, the tourist attractions in Lisbon are quite affordable and there are many free things to do in Lisbon as well. If you want to save on tourist attractions and guided tours in Lisbon, opt for the free tours offered near the Padrão dos Descobrimentos monument and in the Alfama district.
Is Lisbon expensive? How much does it cost to visit Lisbon?
It's time to do the math and figure out the costs of traveling to Lisbon. The good news is that unlike most of the capital cities in Europe, Lisbon is cheap. It's a great city for those who are traveling to Portugal with kids and budget travelers.
If you are traveling on a budget, Lisbon feels like heaven to you, as you can spend as little as 30 euros per day and do a lot. This would include breakfast, lunch, dinner, transportation, 1 paid attraction and accommodation. However, if you prefer to be more carefree and try lots of stuff, then you might need 50-60 euros per day to survive in the city. If your Lisbon daily budget is over 70 euros, it will surely be enough to explore more of the paid attractions or go on a boat tour on the Tagus river.
Lisbon travel costs for a budget traveler or backpackers – 30,00 per day

Lisbon travel costs for a mid-range traveler – 60,00 per day

Lisbon travel costs for a luxury traveler – above 100,00 per day
Lisbon prices are also good for travelers that want to have a luxury holiday or pamper themselves in a nice hotel without spending that much. You can upgrade your experience and still save money in Lisbon.
But if you really want to save some on your trip to Lisbon, then you can try a couple of things. First, plan your trip ahead of time – probably three months before your holiday in Lisbon. Read our Travel Planning page for more tips on how to plan your trip.
Second, buy your flight tickets to Lisbon in advance to get the best deals and, if possible, travel during the early spring or autumn. These are the cheapest times to visit Lisbon as the high season is over, so prices are lower.
Third, while in the city, you can always walk to save on public transport tickets, but keep in mind that Lisbon's distances can be quite huge. Finally, if you want to learn more about the city and its attractions, opt for a free tour. The guides don't ask for money, but it will be nice to give them some in exchange for what you will learn and see.
In the end, try not to plan everything so much and simply enjoy your trip to this charismatic city. After all, money is earned to be spent on vacations around the world!
Is Lisbon expensive for you? I hope our guide to Lisbon prices helped you to plan your Lisbon travel budget and enjoy the best of the city. It doesn't matter how much you plan to spend visiting Lisbon; the Portuguese capital is a good fit for any traveler.
Love this Lisbon trip costs breakdown? Pin it for later!
---
Author: Alex Nikolova
Alex is a blogger at EarthOSea who has extensively traveled around Europe for the past 3 years. She lived in Portugal in 2019, when she became more familiar with the Portuguese culture, traditions and language. Alex's specialty is mainly traveling in a sustainable and less harmful way to the environment. She is focusing more on ways to travel on a budget or money-for-value. Along with that, she loves hiking and discovering uncharted islands, but she also loves staying at the beach with a book in hand. Follow her adventures on Facebook and Pinterest.