California isn't known for being a budget destination, and the cost of traveling to San Diego isn't an exception to that. As the self-proclaimed America's Finest City, it's a desirable vacation destination for solo travelers, couples and families, as there is enough there to entertain any traveling demographic.
San Diego travel costs breakdown
With so many things to do and see, San Diego travel costs can be a bit high. But that doesn't mean a San Diego visit has to blow your budget, especially if you're flexible on when you go, where you stay, and what you do.
Having lived there since 2014, I have some ideas on keeping your San Diego trip costs low. So let's talk about San Diego prices, from hotels to transportation, attractions and food. We'll share tips to help you plan a trip to San Diego, even when you're trying to keep it on a budget!
How much does it cost to travel to San Diego, California?
San Diego is a popular destination for tourists, so it can be hard to find airfare deals to San Diego International Airport. If you're flying from outside of the United States, you'll likely also need to connect through one of California's larger airports, like Los Angeles International Airport (LAX).
San Diego's airport is an international one. Still, nonstop flights into the city are rare, unless you're lucky enough to be coming from Zurich, Frankfurt, London or Tokyo, routes with direct flights to San Diego. How much does it cost to fly to San Diego? Well, it will depend on where you are coming from, whether you are flying with check luggage or hand luggage only, and the time of the year.
It really makes little difference as to the airline you choose to fly to San Diego if you're traveling internationally. Those traveling from within the United States can lower their cost of flying to San Diego by finding good deals on Southwest Airlines and Alaska Airlines, two popular carriers in San Diego with numerous routes in and out of the city.
Search for the cheapest tickets to San Diego using Skyscanner or Kiwi.com.
If you're flexible with your time and travel dates, it's smart to watch flights during times of the year when travel to San Diego is less popular. The cheapest time to fly to San Diego is shoulder seasons, which means avoiding June-August's summer months and the December holidays.
Essentially, any school breaks are popular times for travel to San Diego, as it's a very family-friendly destination. So if you are concerned about your San Diego travel costs, avoid those dates.
Don't forget to buy your Travel Insurance before flying to San Diego!

We use World Nomads and SafetyWing. Just click on the name of the company and book your insurance now. If you need more information, read our Travel Insurance Guide here.
How much does it cost to travel in San Diego?
Once you're in San Diego, you'll find that you'll be able to explore the city much more efficiently with a car. You won't find car rental deals outside of the airport, so it's best to book a car rental for pickup at the San Diego airport, then you can get to your next destination from there.
The average price for renting a car in San Diego is 35 to 45 USD per day. On top of that, you will need to add the cost with fuel and parking.
Use RentalCars to find the best car rental prices in San Diego.
If renting a car is not for you, can also book a private transfer from San Diego Airport to your hotel, click here to do so.
San Diego has public transportation, including a system of trolleys and buses that will get you to several spots within the city limits. But if you're looking to spend time at the city's beautiful beaches, go on a hike around the city's borders, or enjoy some of the great day trips from San Diego, you'll need a car. Unfortunately, San Diego is very car-centric, although with much less traffic than you'd see in Los Angeles.
If you decide to use San Diego's public transportation, you'll pay 2.50 USD one-way. If you are making multiple rides throughout the day, purchase a day pass for 6 USD, a better deal.
Are there any other options for traveling in San Diego?
San Diego is also big on rideshare services like Uber and Lyft, and scooter rentals, which are growing in popularity and only cost on average about 1 USD per half an hour, depending on the brand. (There are several competing scooter companies in San Diego.) Both rideshare and scooters are good options for short distances. Locals at this point avoid taxis, as the surcharges have become exorbitantly expensive.
If you're working on your fitness, you'll find that biking is also popular throughout the city. You'll find bike rentals both downtown and near any of the public beaches. Most will charge around 40 USD per day for a bike rental.
How much are hotels in San Diego, California?
As a popular destination for tourists, there is no shortage of accommodation in San Diego. No matter what you're looking for, you'll find a good place to stay in San Diego, across all budgets. We listed below a few options for accommodation, from luxury to the cheapest San Diego hotels.
If you're looking to stay at a hotel, you'll find a great variety of hotels and prices in San Diego. Those who aren't worried about their budget may want to consider the historic Hotel del Coronado, a beautiful property on Coronado, steps off the city's best beach.
The price for luxury properties and 5-star hotels in San Diego will start at 250 USD for double occupancy. You can find 4-star hotels in San Diego for 150 USD per night for a double room.
Hotels downtown or near the city's Little Italy neighborhood can be a bit pricey, but convenient to everything you'd need while in San Diego. And walking distance to some of the city's best food options and the scenic harbor.
If it sounds like a place you want to stay, check out these two top hotels in San Diego: Hotel Palomar and Hotel Indigo. Click on the names of the hotel to see the rooms and book your stay in San Diego.
For those traveling to San Diego on a budget, you can find 3-star hotels for 100 USD per night or even cheaper, depending on the location. Travelers looking for affordable hotels in San Diego may prefer the chain hotels in Hotel Circle. These will be no-frills accommodations, but you'll still be within a 15-minute drive of San Diego's beaches and downtown, with free parking at most of the hotels there.
If you are concerned about hotel prices in San Diego and want to save a bit, our suggestions are Hampton Inn Hotel Circle and DoubleTree by Hilton. Click on the names of the hotel to see the rates and book your accommodation in San Diego.
If you're looking to stay on the beach and don't want an Airbnb, you'll find many beach-style accommodations in and around Pacific and Mission beaches that are more motel-style. While they're not always inexpensive for the quality, you can't beat the beach access if that's what you're visiting San Diego for!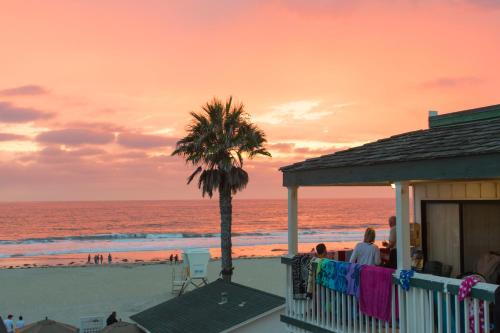 You can find motels in San Diego for as little as 50 USD up to 150 USD per night. It all depends on the property, the location and the season. Our suggestions for motels in San Diego are The Beach Cottages and Pacific View Inn. Click on the names to see the properties and book your stay at San Diego beach.
Airbnb is a popular option in San Diego, as long as you're looking through those listings carefully, so you're not surprised by the fees. You can find great beach bungalow-type places near the most popular beaches – Pacific Beach and Mission Beach, for example. Also, larger homes in La Jolla, or downtown studios in the Gaslamp and Little Italy. The average price of Airbnbs in San Diego is 211 USD per night.
You can book your Airbnb in San Diego by clicking here.
Traveling to San Diego alone and want to socialize? Are you looking for ways to keep your San Diego trip costs low? Then a bed in a hostel might be the best option for you. San Diego hostel prices start at 25 USD for a bed in a dorm. If you are traveling with friends or family, you can book a private room with a shared bathroom for as little as 50 USD.
For those who want to keep their San Diego travel costs under control, have a look at these hostels' prices: International Travelers House Downtown Hostel (that offers free breakfast), HI San Diego Downtown Hostel or Stay Classy Hostel.
For more tips on finding and booking the perfect hotel room, read our Accommodation Guide here.
How expensive are tourist attractions in San Diego?
There are a number of popular attractions in San Diego that will cost some money for you to enjoy. We'll talk first about them and later about the free things to do in San Diego.
Perhaps its most popular attraction in the city is the San Diego Zoo. Prices start at 60 USD per adult and 50 USD per child; you can buy your San Diego Zoo skip the line ticket here. If you have more time, it's also worth a visit to the zoo's sister park, the San Diego Zoo Safari Park. The San Diego Zoo Safari Park costs 50 USD and you can also buy your skip the line ticket in advance to save time during your visit. Get your San Diego Zoo Safari Park ticket here.
In case you are planning to visit both, you can save on your San Diego Zoo admission prices by buying the combined ticket in advance. The San Diego Zoo and Safari Park 2 Days Ticket cost 85 USD, book it here.
While you're up in North County, specifically the city of Escondido, you'll have access to some of San Diego county's best hiking trails. Hiking is, after all, free and a great way to save some money while visiting San Diego.
Do you love mountains? We have a special post for you: 11 Mountain ranges in the US you should visit once in a lifetime!
Here are a few amazing hikes that will keep you busy and won't weigh on your San Diego travel costs. The Elfin Forest Recreational Reserve is wonderfully scenic. Hiking to Potato Chip Rock on trails around nearby Mt. Woodson and the community of Poway is a right of passage for any San Diegan. Torrey Pines State Reserve offers incredible ocean views and beach hiking.
And don't forget the beaches.
San Diego is a year-round destination, so if you don't mind overcast skies, you should at least be able to enjoy a stroll along the beach no matter when you visit. You'll find the warmest ocean waters in the months of July-September if you're up for a swim.
Coronado will offer the softest sand, La Jolla is great for watching surfers and the local seal population. Pacific and Mission beaches are wonderful for people-watching and amenities along the boardwalks.
If you're interested in testing your surfing skills yourself, rent a board, sign up for a lesson if you're a beginner, and try out the local pastime. Costs vary but expect to pay between 30-40 USD for a surfboard rental for the day, and around 50 USD for a standup paddleboard, another popular activity. A beginner's surfing lesson with board rental will run you around 60 USD. Book your surfing lesson in La Jolla Beach here.
How much does it cost to eat and drink in San Diego?
The cost of eating out in San Diego is comparable to other big cities around the United States. One trick to taste the best San Diego has to offer while staying on a budget is to locate one of San Diego's great farmers' markets, available on any given day somewhere in the city.
If you're visiting on a Saturday, head to Little Italy, the most impressive outdoor market with the best variety of prepared foods and fresh fruits and veggies if you'd like to take something back with you.
As far as nightlife and drinking are concerned, San Diego is known for its craft beer scene. Happy hour specials abound if you're willing to look and willing to snack and drink between the hours of, typically, 3-6 pm. A pint of beer in San Diego costs 7-9 USD outside of happy hour and depending on that beer's strength. San Diego's North Park neighborhood is a hub for craft beer, with over a dozen breweries in the area alone.
Meals will come at a variety of budgets. As San Diego is home to excellent Mexican food and fish taco scene, you can fill your belly with some delicious cheap eats for under 15 USD per person. Try Old Town for the best Mexican food the city has to offer!
As it's a growing foodie paradise, though, there are more luxe options, too, if you want a nicer meal. La Jolla will have the fanciest options; try Duke's for beautiful views and delicious food.
So, is San Diego Expensive?
It can be. Expect to pay around 200 USD per day if you're looking to enjoy paid attractions or stay at a decent hotel.
San Diego travel cost:
A mid-range traveler staying in hotels and visiting paid attractions will spend in San Diego an average of 200 USD per day.
But you've also learned that you can still enjoy the city on a budget, especially if you do as the locals do and enjoy the great outdoors. Going for free activities, like spending the day hiking or at the beach, will certainly decrease your costs, and you'll still have a fantastic time. You're in America's Finest City, after all!
For more tips on planning, saving, and enjoying your holidays, read our Travel Planning Page. And if you are traveling in California, don't forget to read our guide to the best things to do in Malibu!
Love this guide to San Diego travel costs and prices? Pin it for later!!
---
Author: Agnes
Agnes is the person behind Travel on the Reg, a travel blog focused on sharing her collected wisdom and (hopefully) amusing truths about travel when it's done in a regular way. Travel can be messy, awkward and amazing, sometimes all at the same time. She's here for all of it. A Chicago native, Agnes moved to San Diego, America's Finest City, in 2014, and has been enjoying the sunshine ever since. Follow her on Instagram or Twitter!